#beer4ayear winner Sam Marsh interview
With less than 3 months until the 2018 #beer4ayear competition comes to a close we thought we would catch up with last years winner, Sam Marsh who has been busy working with us this year.
How did you find out about the Pistonhead #beer4ayear competition?
My good friend Brandon tagged me in a Pistonhead post via facebook outlining the Beer for a year opportunity. He always keeps an eye on the Pistonhead page for exciting events! Brandon runs his own beer themed instagram page called 'Brew with a view' where he takes a beer somewhere epic and photographs it… so if anyone has a good picture of a crisp can of PH with a cool backdrop feel free to tag it up!
What was the inspiration for your piece?
The piece I submitted was titled "The King of Brews". I created the design with Fineliner ink pens and coloured digitally to make it eye catching and bright. I was inspired by traditional playing card designs and my love for medieval history. The King is holding Pistonhead engine parts… it would be cool to create a series of PH characters around the playing card format holding different objects- Vinyl records, brewing equipment or maybe a cheeky can of PH. While creating designs for PH I tried my best to encapsulate the Pistonhead ethos of Brutal brewing.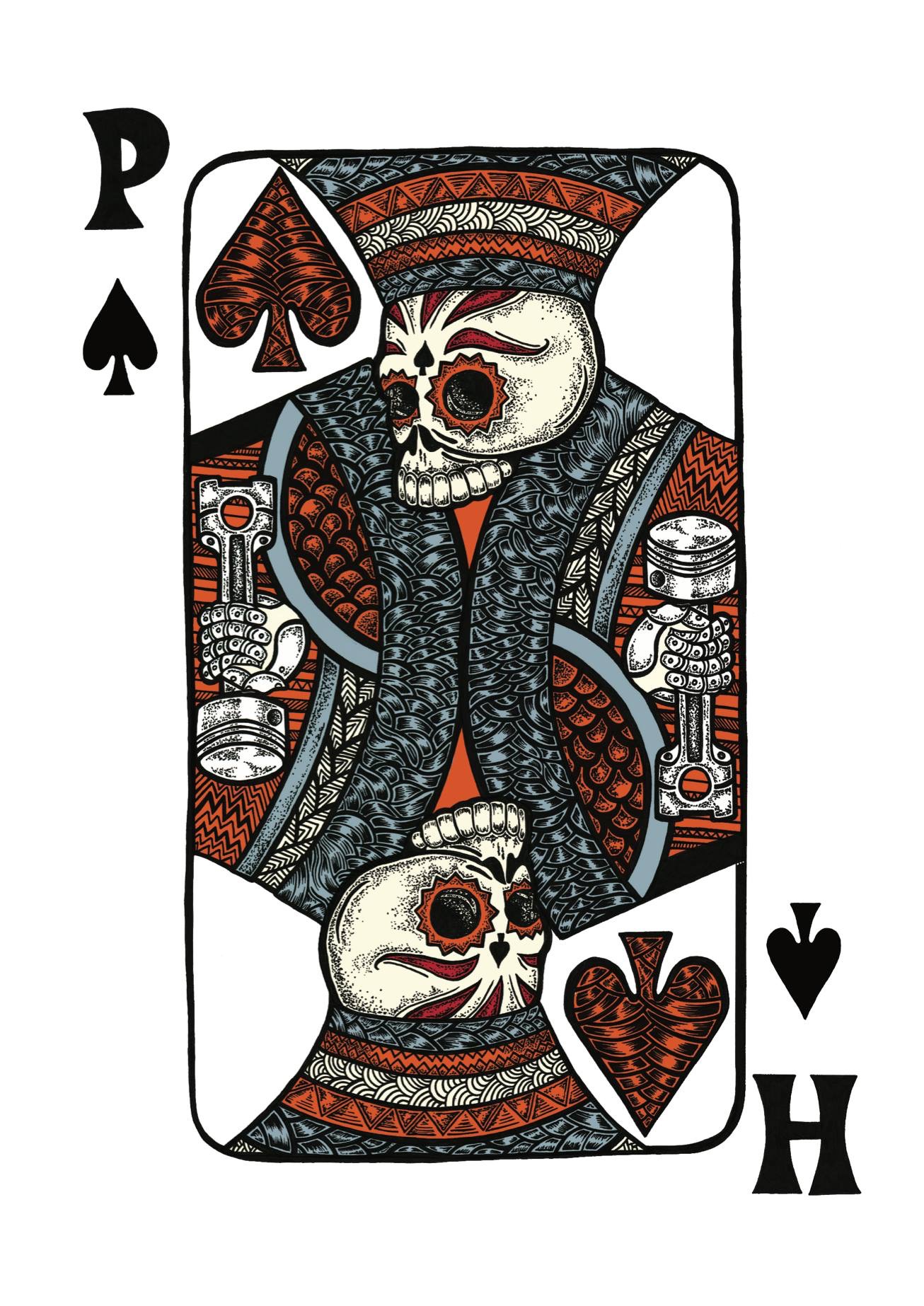 What work have you been doing with pistonhead Lager since the competition?
I've travelled to Wales and created some Pistonhead Murals in 'Le Pub' Newport along with making some live Canvas artwork for PH at the recent non-alcoholic Flat-Tire launch party in Shoreditch. I can confirm the Non-Alcoholic Flat-Tire is delicious and is by far the best booze free alternative out there.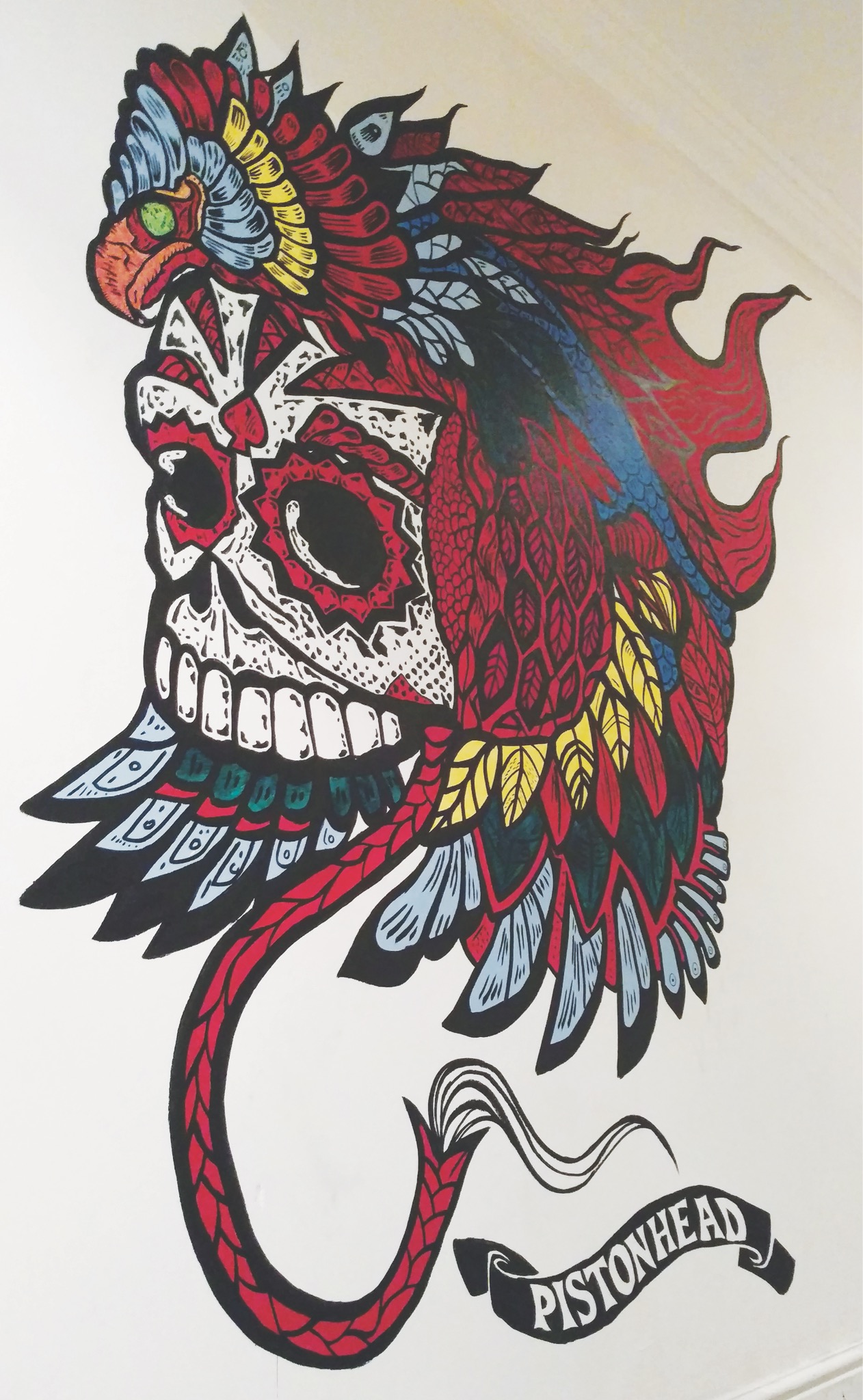 It's been a lot of fun bumping up the scale of my artwork over the last month and using a hefty paint brush rather than fine liner pens. I think it's a great way to spread creativity and carry the good spirits of Pistonhead to different bars & pubs across the UK.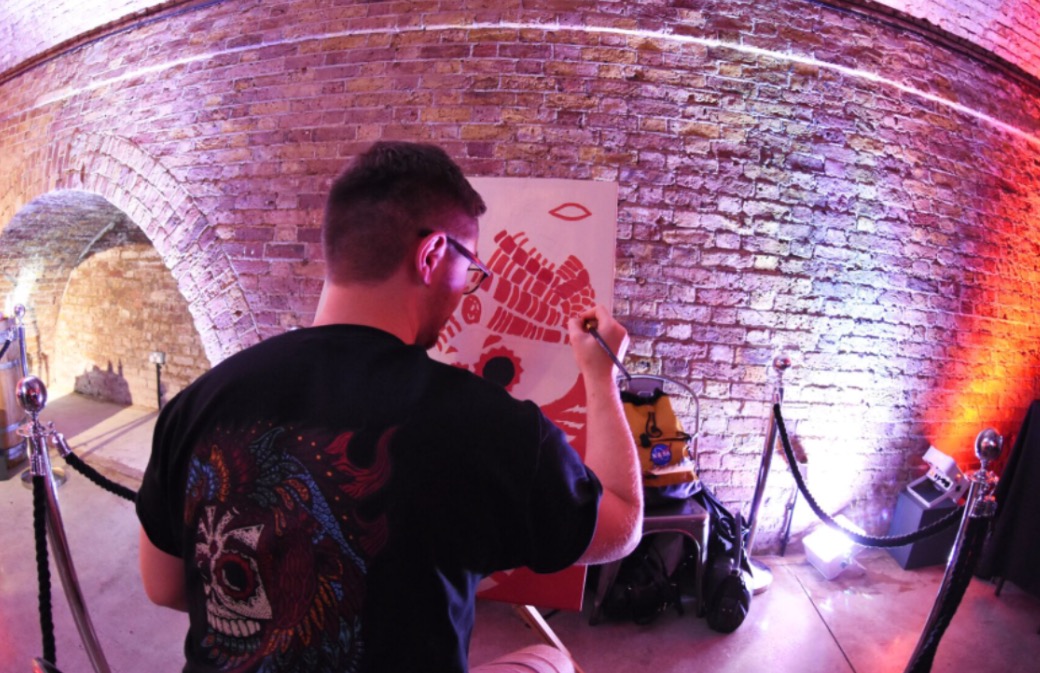 Would you recommend the competition to other artists?
Absolutely! It's been fantastic to design for a brand with so much enthusiasm and interest in promoting creativity
Definitely! If you love the Pistonhead brand then it's a no-brainer!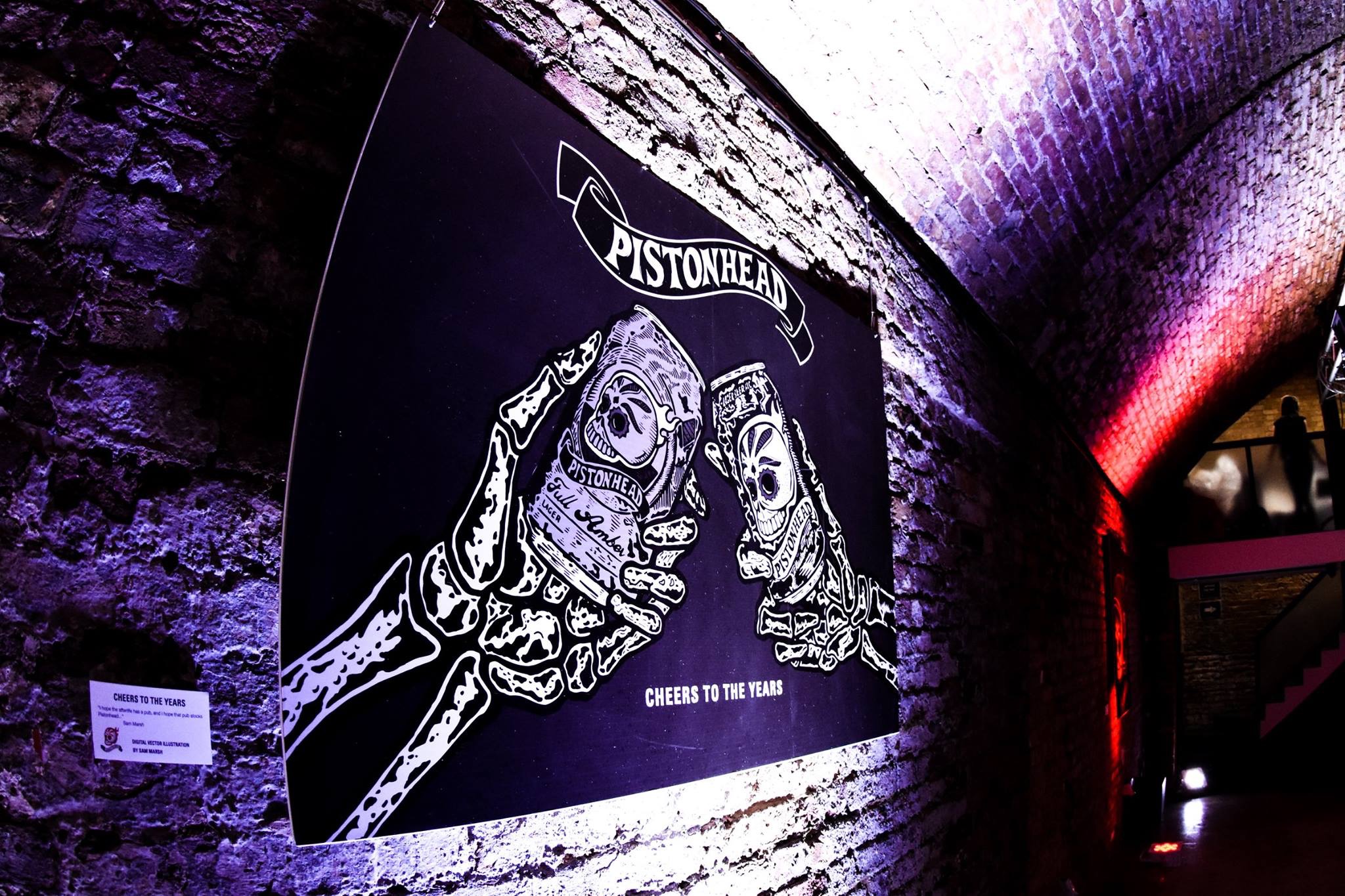 And finally, the most important question, which is your favourite Pistonhead Lager brew?
That's a really tough question! I'm a really big fan of Full Amber… it tastes like sweet liquid amber with a biscuity malty body to it. I like that it has a citrus edge to it as well!
Find out more about Sam's work here
If you would like to enter then Create anything around the iconic Pistonhead logo for a chance of winning £1500 worth of commission work and a years worth of free beer!
Prizes;
12 cases of Pistonhead Lager (24 cans)
The winning piece will be created and sold on the Pistonhead online store. The artist will receive 10% of all sales of their piece!
£1,500 worth of commissioned work for Pistonhead Lager which can include creating artwork, recipes, music, etc depending on the winning entry.
To enter, you have four options:
Tag us & use the hashtag #Beer4aYear on Facebook
Tweet us & use the hashtag #Beer4aYear on Twitter
Tag us & use the hashtag #Beer4aYear on Instagram
Email us at [email protected]
Terms & Conditions: The competition runs from the 16th of January 2017 until the 31st of January 2018. Pistonhead Lager retains the rights to use all entered artwork for purposes including, but not limited to, social media, POS and branding.
All entrants must be 18 years or older and be UK residents.
---